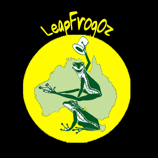 Upper Mt Baldy 10 October
November 2017
Three trips in October.
Another one to Mt Baldy but this time to the top area. One to the Babinda Boulders where Dave was after a particular mole cricket. On arrival it tantalised with its singing and was recorded. A few holes were dug to no avail. Later in the night Dave thought he had the target at one of the lights. But the next day: Seems the song I recorded was a different mole cricket from the one at the light. And NEITHER was the desiderata!! I give up.
He won't of course but the Guide to Australian Crickets is due at the end of the year!
And our final sortie was down the Yarrabah Road.
A few of the most 'liked' Tropical Tonics for the month can be viewed here.
A good response last month to the new caterpillar/chrysalis page. So, I went through my files and have added quite a few more.
I do two days a month at the Kuranda Arts Cooperative gallery in Kuranda where I have some of my stuff exhibited and for sale. I noticed another artist's Xmas decorations had made a few sales. Christmoth baubles came to mind. They can be viewed here. Hey! Give moths for Xmas!
Cheers Buck