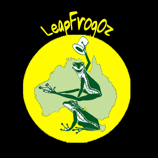 Tropical Queensland
Wildlife
from
Dusk to Dawn
Science and Art
What's inside the cover?
A luxurious large format coffee table book of the night wildlife of Tropical Queensland. Beautifully photographed by Buck Richardson, this is his second book of moth identifications. But this time he has many other nocturnal species in full colour, close up and intimate, interspersed with artworks made from the images of these amazing creatures, and followed by a 4000 word essay on The Language of Science. There are photographs of approximately 1500 species in the book. All are identified by their binomial scientific names which are also indexed.
ISBN 978 0 9577 2901 8 Hardback 248mmx300mm 348pages RRP $65.00 incl GST
$65 each - FREE SHIPPING anywhere in Australia
NOW AVAILABLE FOR OVERSEAS INTEREST
$30AUD TO RECEIVE THE ELECTRONIC PDF VERSION THAT WENT TO THE PRINTER
Tropical Queensland Wildlife from Dusk to Dawn - Science and Art was officially launched at the Australian Entomological Society's Conference in Cairns by Dr. Geoff Monteith
Kuranda is a small town in the rainforest just a short drive up the Range Road west of Cairns. It a pretty and peaceful place, and over the years I have had cause to delve into its entomological history once or twice. I've discovered that beneath its placid surface there is obviously "something in the water" that drives grown men to the brink when it comes to Lepidoptera.
Frederick Parkhurst DODD was a bored bank clerk with a wife and three children who got hooked on insects, quit the bank, and moved to Kuranda in 1905. He spent the rest of his life studying and displaying the amazing moths and butterflies he found there. He arranged 40 large cases of specimens in spectacular geometric designs and toured the nation with them in 1918 and again in 1923. Early tourists, between the wars, caught the train up from Cairns and paid sixpence to view the cases in his Kuranda home.
Dodd had a tough life, and one of the cases of moths tells a story. It's a verse from a Longfellow poem, spelled out in small brown moths set among the most exquisite specimens he could find. Longfellow wrote the poem about 1870 to commemorate the 50th birthday of Alexandre Agassiz, then professor of Zoology at Harvard University. (No one writes poems about professors of zoology any more!)
The verse reads:
And whenever the way seemed long
Or his heart began to fail
SHE would sing a more wonderful song
Or tell a more marvellous tale
"SHE' in that verse is Mother Nature...earlier it reads: "...and Nature, the old nurse, took the child upon her knee, saying here is the story the Father has written for thee...".
So Dodd was saying that, whenever he was doing it tough, his beautiful Lepidoptera would always cheer him up and give him strength to carry on.
Dodd died in 1937. In 1953 a fruit grower named Ted Harris moved from Melbourne to Kuranda and cleared the rainforest to plant citrus at the site which is now the "RainforestStation" tourist park. He got hooked on Lepidoptera and developed a gigantic collection of butterflies...but in 1971 his partner (Ted Alston) died and he fell into such depression that he gave his entire collection away to the Queensland Museum and lived another 8 years.....broke, alone and Lepidoptera-free.
In the mid 1980s a butterfly collector named Paul Wright, whose appearance recalled Errol Flynn and could only be described as dashing, arrived in Kuranda. He tasted those waters and went on to develop the largest walk-in butterfly house in the southern hemisphere. For the entomologists here who appreciate a good high-hygiene, mass caterpillar rearing facility, I recommend you take a look behind the scenes at the Kuranda Butterfly Sanctuary. It's a Kuranda icon and used to be Kuranda's largest employer.
In 1980, quietly, before construction of the butterfly house, another escapee from southern commerce had arrived in Kuranda, but it was 25 years before the waters claimed him. This was Buck Richardson, author of the magnificent book we are launching today. Buck had an engineering background and, with his partner Eve Stafford, they built a wonderful house in the rainforest and immersed themselves in the artistic life of the community. Early projects included fabric design and printing. As the years passed computer imaging and digital photography came of age, and this was a perfect fit with Buck's precise mathematical background (he calls it "mothematical"!) and his outrageous imagination. Around 2004 he discovered moths coming to his houselights as items not only of great beauty but also as elements of astonishing natural designs. He made contact with local entomologists like Max Moulds, Paul Zborowski and Ross Storey – and with ANIC moth-maestro Ted Edwards. He acquired (and learned!) scientific names for them, started a website of moth images and, in 2008, published an amazing little book called "Mothology". It comprised 400 species of classified Kuranda moths and scores of mind-bending art pieces using moth images. The local parliamentarian wrote an introduction titled "Forewing", not "Foreword'...did she know?
That book caused a meeting between Buck and a recent entomological refugee to Kuranda, ex-ANIC orthopterist, David Rentz. They became firm friends and now go light trapping 30-40 times a year. This has opened Buck's world to a plethora of other insect groups, especially shield bugs which have the symmetry and bold patterns which press Buck's creativity buttons, and has lead to the present book, "Tropical Queensland Wildlife from Dusk to Dawn". It has 1500 species, fully named, interleaved with Buck's art pieces.
Buck admits to being influenced by Dutch artist M.C. Escher who made striking and beguiling images of interlocking patterns melding and transforming as the eye sweeps over them. The most familiar are of flocks of birds merging as they overlap, with the pattern completely filling available space. Escher was restricted to working on a flat surface, though he has a famous piece viewing his own reflected image in a silvered sphere. Similarly, Dodd could only arrange his specimens by painstakingly positioning the pins on the flat bottom of an insect case. Virtual 3-D computer imaging has released Buck from dependence on a flat surface and his interlocking moths and shield bugs seamlessly coat the surfaces of spheres, cones, cylinders and infinitely disappearing vortices in his artworks.
The book satisfies the taxonomist who wants to see wide coverage of reliably named species, it satisfies the lover of beauty who just enjoys the wonders of the insect world in close-up, and it satisfies the artist who wants to be surprised and entranced by inventive use of imagery drawn from nature. As I wrote to Buck when I first received a copy: "It's the sort of book where one makes a cup of coffee then opens it in reverence in one's best lounge chair with the best light....and suddenly realises an hour later that it's past dinner time."
But a warning to Buck! If you drink too deeply of those magical Kuranda waters you may end up in the same situation described by Frederick Dodd in an unpublished manuscript written about 1917. Speaking of his life in Kuranda, he writes: "Each year reveals other marvels, so, to such as myself, in the grip of that which some are pleased to call science, there can be no change, they are enslaved to the end..."
It gives me great pleasure to launch this wonderful and inventive book.
GBM
4Oct15
Comments from other readers:
'Wonderful book . . . it is fantastic' Ted Edwards ANIC
'An outstanding job' Alex Stolarski Roseberry Nursery
'A great book . . . I shall treasure it' Peter Shanahan
'Absolutely bloody fantastic' Diana Kain
Mothology : Discover the Magic
Mothology : Discover the Magic is a celebration of nature's diversity, and of artistic innovation.  It excels as a unique gift for all who may be surprised and delighted by the rich natural heritage that is right before our eyes in the World Heritage Wet Tropics Rainforests of Queensland, Australia."
- Desley Boyle
Minister for Tourism, Regional Development and Industry
Member of the Wet Tropics Ministerial Council
"Mothology certainly exploits the wonderful colours, patterns, combinations and contrasts of moths to an impressive extent. The combination of the designs and the originals of the moths from which they are derived is inspired and will surely kindle wider interest in the use of natural subjects in design. It makes a great visual impression."
- Ted Edwards
CSIRO
"Buck Richardson's Mothology is the epitome of a coffee table book. Both beautiful and informative, you'll want to keep it handy. The artwork draws one back time and again to discover more of their secrets"
- Alan Gillanders
Alan's Wildlife Tours
"Outstanding! What appeals to me most is the warm personal touch given to the subject. Mothology showcases the true beauty of moths in all their myriad shapes and colours, both as creatures in their own right and as the basis for stunning works of art."
- Nick Monaghan
Life Unseen
"Wonderful! I loved the stories, the personal touches. Pretty amazing work really."
- Ian McMillan
Imbil Lepidoptera
"It is quite wonderful. The writing and the illustrations are quite inspirational."
- Don Herbison-Evans
Caterpillars of Australian Moths
Mothology : Discover the Magic was officially launched in Cairns on Friday 10 October 2008 by Desley Boyle, Minister for Tourism, Regional Development and Industry, Member of the Wet Tropics Ministerial Council and Member for Cairns and in Kuranda on Sunday 12 October 2008 by Tom Gilmore, Mayor Tablelands Regional Council and Member of the Board of the Wet Tropics Management Authority.
REVIEWS
Edited version of review by Dr David Britton from the Australian Museum in Sydney for the Society for Insect Studies Circular #135
There are any number of lavishly produced colour picture books of butterflies featuring both dead and live insects, but relatively few which show images of the vast remainder of the insect order Lepidoptera. To rectify this there has been "A Guide to Australian Moths" by Paul Zborowski and Ted Edwards published last year, and now this stunning new publication by Buck Richardson, which features numerous colour photos of live moths. It highlights just a few of Australia's many moths, but will be an eye-opener for any of you who have not spent time around a light in tropical Queensland. The "Mothology" in the title is not Buck"s attempt to rename a branch of entomology, but refers to his use of images of moths to construct images and objects of sublime beauty and detail.
Buck's book is first and foremost an artist's take on moths. It is a well-bound hardcover book in 28 by 21.6cm landscape format. It consists of two parts, with the first half showing images of his source material, which are mostly macromoths which have turned up at his house in Kuranda. These are arranged by family and subfamily, but related families are not necessarily placed near each other. The quality and reproduction of the digital images is very impressive, especially given that the equipment used is not "top end" by any standards. This is a timely reminder that good technique and patience is far more important than laying out lots of cash for the best equipment. The majority of the species illustrated belong to what lepidopterist refer to as the "macromoth" families, although some of the larger micromoths make an appearance. For some moths these are probably the first published colour images of live specimens.
It is in the second half of the book that we see how Buck has realised his "Mothology" concept. Buck has mastered the use of Adobe Photoshop to manipulate his digital images to create spectacular montages of moths in a variety of formats and media. Readers may be familiar with the souvenirs from various tropical locations where images are created by montages of real butterfly wings and beetle elytra in picture frames. Let me say that Buck's images complete transcend these attempts, and are in a league of their own. The use of the description "photoshopped" has somewhat negative connotations, implying "fake" or that the artist and photographer has taken a shortcut, but this does not apply in this case. There are many delicate touches in how he has used his moth subjects, such as in his mandala images where the outstretched antennae of repeated images of moths form interlocking borders. As someone who is familiar with the majority of species figured in his images, I found myself diving into each image to try and locate the source species, and being delighted in how the beauty and complexity of the original is multiplied many times over to create a whole new effect. The most impressive piece is probably Buck's Mothology take on the famous 16th century Ardabil carpets. Whilst many of his other images feature only one to three species each, this has numerous species arranged in geometric interweaving and repeated patterns. In other pieces there clever nods to the geometric artist M.C. Escher, and interpretations of mandalas and other geometric art, although Buck points out that he does not imply any religious significance in his use of these forms. I think the only images that did not quite deliver for me were the flippant use of groups of his spherical moth images in an egg carton and on a billiard table. However, I"m sure this is more a matter of personal taste.
There are a number of separate sections of text in the book which discuss the World Heritage listed Wet Tropics, the hobby of "mothing", taxonomy, and his introduction to "Mothology". These are written in a casual and somewhat rambling anecdotal style, but are entertaining and obviously aimed at a very broad audience
The book is a fascinating and alternative look at insects and their beauty, and I hope it encourages more photographers and naturalists to take an interest in moths. At $29.95 it is incredibly good value for a new release hardcover, especially one of this quality. I hope that Buck goes on to do more of this and we see a second volume in the series soon.
                                                                                                                                                                        - Dave Britton
Review by Jan Taylor for the Western Australia Insect Study Society Newsletter October 2008
This book could be regarded as forming a milestone in nature publication. It is about moths, the beauty of living things as seen through moths, and how this natural art can be woven by computer-generated graphics into patterns and three-dimensional pictures of surpassing excellence.
The author trained as an engineer and after a professional life moved to live in tropical rainforest at Kuranda, north Queensland. Over the years since he started this new life, he has taken photographs of local moths coming into the house and to street lamps and built up an album of over 300 species. Many of these are presented, mainly on a black background, in 26 pages of the book. This forms a good introduction to the beauty and diversity of moths, and although from Queensland rainforest, many are recognisable as ones also found in WA or to have near relatives here.
There is little text in the book – he introduces his interest in moths in an anecdotal way incidentally leading the reader into some basic background information, even entering the field of modern taxonomy, referring to a database being built on the lepidoptera of the world which includes specific DNA bar codes.
The final 24 pages present computer-generated artworks based on his digital photographs. Many are arranged in mandala-like patterns, others have been projected onto shiny spheres, some with a jewel-like quality. His designs have also been made into pure silk scarves and posters. He was even inspired by a Persian carpet design to produce a moth version. These can all be viewed and purchased from his website.
It is a book for those who have a general interest and love art and nature. It may inspire people to look more closely at moths and become hooked on "mothology". The book can also be useful for identification purposes.– Jan Taylor.
Review by Chris Lambkin and Geoff Thompson for the Entomological Society of Queensland News Bulletin October 2008
Magic indeed! In this book Buck Richardson has managed to juxtapose his love of art and interest in moths. As entomologists, we are all aware of the beauty of the patterns and amazing colours of Lepidoptera. However it is fantastic to see a member of the general public developing not only an awareness of the biodiversity of moths, but also an understanding of the importance of taxonomic principles. By collaborating with a diverse group of amateur, professional, and retired entomologists, Bucks' amazing photographs of the 350 odd species of moth found in his local area have been amalgamated into a beautiful and useful reference to the moths of the rainforests of north Queensland, if not Australia. Buck does not claim to be an entomologist, but his written information is clear, well organised, informative, and very readable.
As for the digital images Buck has produced from his photographs of moths and presented in this book, and in the associated limited edition prints, Giclee prints on canvas, posters, scarves, 3D stars, mobiles, wall plates..... Truly amazing! These beautiful works demonstrate Buck's love of colour and pattern, mastery of digital design, quirky sense of fun, and passion for attention to detail.
This book is not just a coffee table addition for those requiring the latest collectable book. This is a book that you'll want to look at again and again. As Buck says, 'There is nothing subtle about the patterns on the wings of some moths. Simple or complex, bold or tonal in colour, always perfectly symmetrical, the variety astounding, these are truly beautiful creatures.' The same applies to the designs that Buck has created.
Mothology: Discover the Magic is available from many shops in the Cairns region and from Kuranda Kreations at
www.leapfrogoz.com.au for the very reasonable price of $29.95. The associated limited edition prints, Giclee prints on canvas, posters, scarves (also available at the Queensland Museum South Bank's Explorer Shop), mobiles, wall plates (around $55), and 3D stars (around $250) may also be obtained from Kuranda Kreations. Chris knows where she will be shopping for Christmas!
- Chris Lambkin & Geoff Thompson
Review by Ted Edwards for Myrmecia, News Bulletin of the Australian Entomological Society November 2008
Visitors to collections of moths frequently remark on the seemingly endless variety of colours, shapes and patterns on their wings. Juxtaposed bright colours often achieve a surprising harmony which can provide a wealth of new ideas for designs for fabric or print. In spite of the resolutions of such visitors few moth- based patterns and designs reach the market and those that do are usually of imaginary moths or crudely delineated European butterflies.
Buck Richardson has acted on his inspiration and masterfully employed beautiful colour photographs of resting live moths to produce a brilliant display of patterns and motifs. This full colour book starts with a very personal introduction to moths and details the author's fascination with them, stories of his experiences and some points of view about moths and their biology. The style makes for interesting and entertaining reading. The term "mothology" is typical of the innovative spirit in the book as, while it might irritate some etymologists and entomologists, it is perfectly descriptive and self- explanatory. This introduction is fun, chatty and non-scientific but makes informative reading, but should not be taken too seriously by the pedant.
The author then goes on to illustrate some 370 species of (mostly) macro-moths found in his garden and about the town of Kuranda, Qld. These are all given their scientific names and it is greatly to the author's credit that he has gone to some trouble to obtain correct names for the moths illustrated. Many of the moths are shown against a black background and the author and printer are to be congratulated that the colour saturation of the images is such that almost all show up well and few of the patterns are lost in the black. These identified illustrations of moths represent a very useful resource for the collector and curator as many species from this World Heritage Area will not be found illustrated elsewhere.
The last third of the book takes the wonderful patterns of the moths and uses their elemental elegance to generate a host of colourful and imaginative designs. Moths are repeated in patterns, in plan form, globes, stars and mandalas. This is a fascinating spectacle of colour and design for any eye. These patterns are reminiscent of the displays produced by F.P. Dodd last century using set specimens but, with modern digital photography and image manipulation, such displays can now be taken much further. This book uses these techniques to the full.
The author does have an agenda and the book is a gentle way of advertising his (and his wife's) art as many of the designs are available commercially as silk-screen-printed scarves, posters and calendars, but in doing so he generously gives the reader much to appreciate without obligation to buy more than the book.
-Ted Edwards
Review by Peter Hendry and Lois Hughes for Metamorphosis Australia, Magazine of the Butterfly and Other Invertabrates Club December 2008
This is a book in two parts. In the first, Buck describes his introduction to moths and displays images of some 360 live moths. The second part illustrates the computer-generated artwork Buck has created from his moth images. It is my intention to comment on the first part and for Lois Hughes, our resident artist, to comment on the second.
In the introduction Buck first talks about the World Heritage listed Wet Tropics, followed by a section titled "Gone Mothing". In this section I found many parallels with my own experience into the introduction of the moth world. I particularly enjoyed how he went about naming moths before discovering their true name! Hawk moths were known as "Concordes" and names like "big rich brown with orange middle" and "two-tone green" were used. My imagination does not carry that far and any moth I recognise but cannot remember its name, I just call "Me Mate"! By the end of a night's mothing I can have a light sheet full of "Me Mates", all different and belonging to different families!! Buck then goes on to talk about "Taxonomics" followed by images of some of Australia's most beautiful moths.
While not a scientific work, it is a wonderful resource of moth images, all with scientific name, family and sub family where applicable. I noted that in a review of this book by Dave Britton, for the Society for Insect Studies, he mentions an error. On page 13 the moth labelled Zelleria isopyrrha Arctiidae Lithosiinae, is in fact Calamidia hirta. Z. isopyrrha belongs to the family Yponomautidae. All of the images were taken at Kuranda, North Queensland but many of these moths have come to light here at Sheldon, South Queensland and many will occur further south.
I would recommend this book to any with an interest in our natural history or all things beautiful. My only criticism is that I am not a fan of the landscape format in which it is presented.
                                                                                                                                                                           - Peter Hendry
"Vision sets you free from the limitations of what the eyes can see and allows you to enter into the liberty of what the heart can feel.  It is vision that makes the unseen visible and the unknown possible." (This quote is taken from the Foreword of "The Principles and Power of Vision" by Dr. Myles Munroe.)
Buck Richardson has tapped into this source, which sets his book and art works above the ordinary.  As my assignment is to comment on the artistic merits of his work I will leave the correctness or otherwise of the scientific aspects of it to those considered qualified to do so. Time will reveal the truth of those theories and assumptions.
In the first 11 pages, Buck leads us on a delightful journey of discovery and reaches out with refreshing enthusiasm, seeking to draw us into this secret and mysterious world of these creatures of the night, perhaps hoping that we too will be captivated, obsessed even, with "mothology".  His quirky sense of humour is evident throughout the book as well as in his art works, eg. his substitution of "Forward" with "Forewing"sets the tone from the very beginning.
He gently challenges us to not only conserve but to actually celebrate and pursue life, not exploiting, but living harmoniously with and being good "care-takers" of the land we have been entrusted with, for the benefit of all.  He leads by example.
From pages 12 to 39 his stunning moth photos are a feast for the eyes.  Decoratively displayed (and named) many on black backgrounds, some merging mysteriously, as if still camouflaged by the blanket of darkness from which they came.  My very favourite is of a stunning Hawk Moth, Daphnis protrudens, on page 35.  Coming a close second is the large Spirama recessa, with huge eyes, looking like "a man with a moustache"!
On pages 40 and 41 Buck reveals that his interest in moths began from a photographer's point of view and I quote –
"When each of my images came up on the computer screen for the first time I was constantly amazed and delighted at the variety of these truly beautiful creatures.  The patterns on their wings, simple or complex, bold or tonal in
colour, always perfectly symmetrical were captivating ... and stimulating.  It was not long before I was manipulating them as elements in grander patterns which I called mothology."
In the next 24 pages the culmination of those creatively manipulated images are gloriously reproduced on spheres, mandalas and stars, a mobile of mandalas in jeweled cases, boldly patterned silk scarves aptly titled "Silk Moths", limited and open edition Giclee prints and posters boldly and brightly patterned   At first glance you notice the wonderful designs and colours but as you continue to look you realize that each one is composed of a myriad of moth images and the harder you look the more you find.  A truly joyful experience!
The book itself is beautifully laid out with great attention to detail, eg. the moth outline enclosing the page numbers is a nice touch. The visual impact is simply stunning.  Not for Buck the dead specimens of trophy moths, encased, but gloriously alive creatures, reproduced, to frame and hang or proudly wear, intricate and beautiful, humorous and inspirational.  Discover the magic for yourself.
                                                                                                                                                                         - Lois Hughes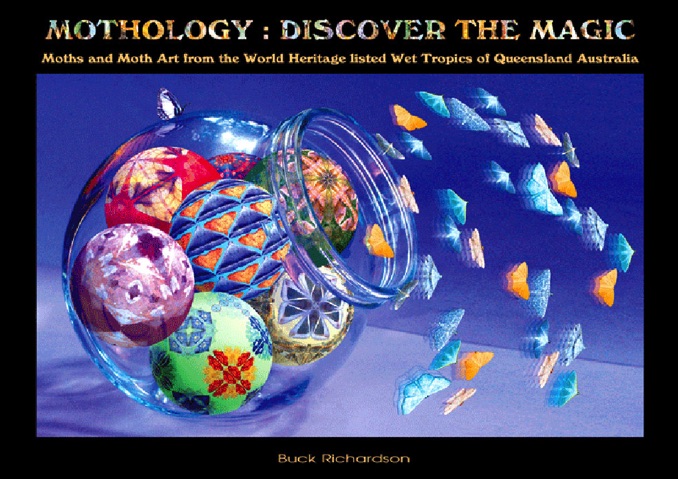 Mothology : Discover the Magic
RRP $29.95
Free Postage in Australia